Coconut coir or coco coir is nowadays a popular choice for growing plants. It has certainly replaced peat moss as growing medium in many cases and rightly so. Coir has several advantages over peat moss which we will discuss in this article.
This is a follow-up article from our earlier ones on soil-less growing media and Peat moss. If you haven't read them yet, go visit the articles first.
What is Coco Coir?
Coir, (pronounced COY-er) is extracted from coconuts. It is basically a natural fiber extract from a coconut husk of the inner shell of the coconut. It is used for all sorts of products, from doormats to hanging baskets. One of the most undervalued uses of coir which is becoming increasingly popular is as a potting mix and organic soil amendment.
The coir we use in gardening and agriculture is more like a substance. It is made from the pith found between the fibers.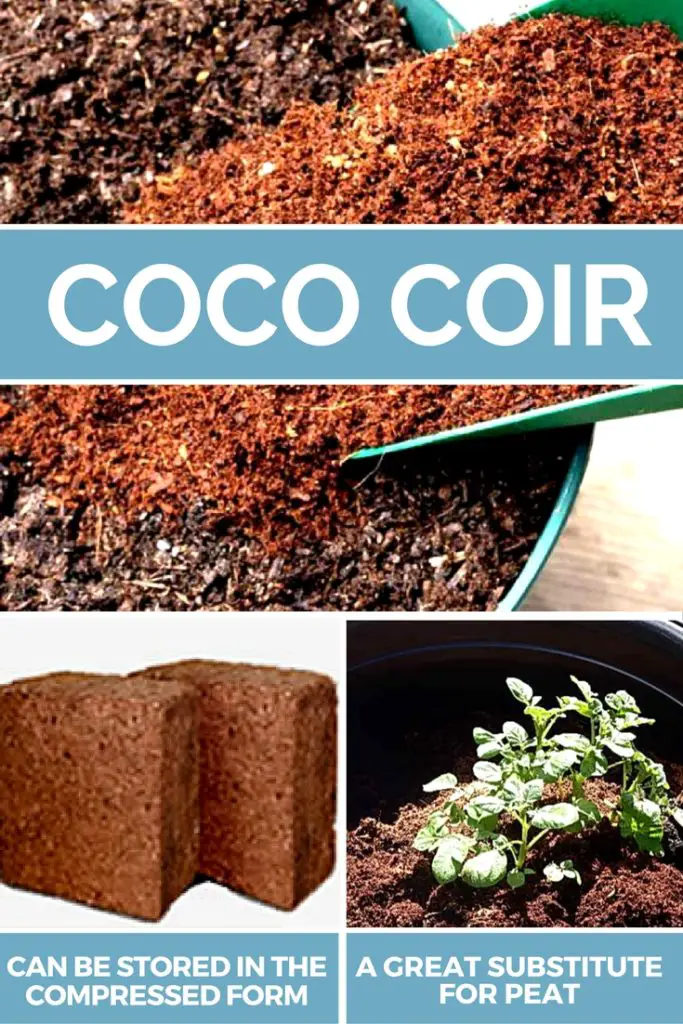 The composition of coco coir:
Coco Coir contains a good amount of cellulose and lignin. As mushrooms thrive on Cellulose, coir is a very good substrate to cultivate Mushrooms. Coir generally has a pH level in the range of 6-6.5. which is a very good pH level for plant growth in most of the cases.
You should not use coir as a sole growing media for growing plants. The nutrient content in coir is very low. If you insist growing solely on coir, add some nutrient solutions as per the need of the specific plants. Coir from countries like India and Sri Lanka contains several and micro plant nutrients including a large quantity of potassium. This potassium interferes with the magnesium availability of the soil.
Generally, coir has a deficiency of Calcium and Magnesium. To remove this problem add a good amount of dolomite to your coir. The Dolomites contain both calcium and magnesium and can be a solution to the problem.
How coir is extracted?
The English word "coir" comes from the Tamil and Malayalam word "kayaru", which mean cord, to be twisted. In a coconut, the place between the hard inner shell and the outer coat is called the husk. It is the place from where we extract coir. These fibers make up about a third of the coconut husk, The rest, called peat, pith or dust.
Coconut Fibers or Coir Fibers: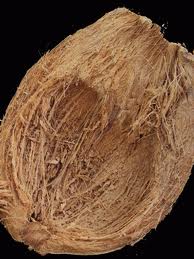 Coir Fiber can be of two types:
White fiber and
Brown fiber.
When the fibers are extracted from the green coconuts it is called white fibers. One of the amazing features of white fibers is that they are resistant to saltwater. Due to this, industries such as manufacturing rope, mats, and fishing nets use white coconut fibers a lot.
Brown fibers are extracted from the fully matured coconuts. It is a key ingredient in making doormats, brushes, and mattresses. These fibers are also a good solution to insulation and packaging.
The process of taking out the husk of the fruit is known as De-husking.
Coir Peat: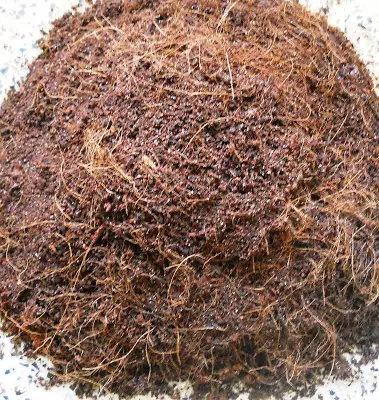 Once we extract the coco fibers, we are left with coconut Coir, (or coir) or Coco peat (cocopeat). It is the second part of the husk that covers most of the portion. Coir was earlier thought of as a waste product, but now this is more of an alternative to peat moss in Gardening.
People call this peat by various names. Coco coir, coco pith, coco peat, cocopeat, coir dust, soil or only coir are broadly the same thing. For simplicity, I will represent this by the single word "coir".
Coir provides a suitable substrate for horticultural use. It is widely used as a soil-less potting media. As coir is high in sodium and potassium, it sometimes contains excess salt.
So before using as a growth medium, this excess salt needs to be treated. To do this, it is first washed, and then screened and graded into various granularity and density.
Once considered as a waste product, coco coir is now used as the best alternative to peat moss
Click To Tweet
How To Prepare A Coir Brick?
You can buy coco coir in compressed blocks. It's easy to transport and store. But you can not use this coir block directly in gardening. You have to soak it in water and convert it into a loamy texture.
Place a brick in a large container. The brick can increase about 5-6 times in volume; make sure your container is large enough to hold it.
A standard 5 kg brick (about 12.5 x 12.5 8 in. or 32 x 32 x 20 cm) will be able to make approximately 60 liters of coir.
Types of Coco Coir:
Coir can be of two types:
sterilized coco coir and
unsterilized coco coir.
In sterilized coir peat, the fungi Trichoderma is not present due to sterilization.
Trichoderma works in symbiosis with plant roots. It protects plants from harmful pathogenic fungi such as Pythium. This is why people nowadays are shifting from using sterilized to unsterilized coir.
How is Coir Used in Gardening?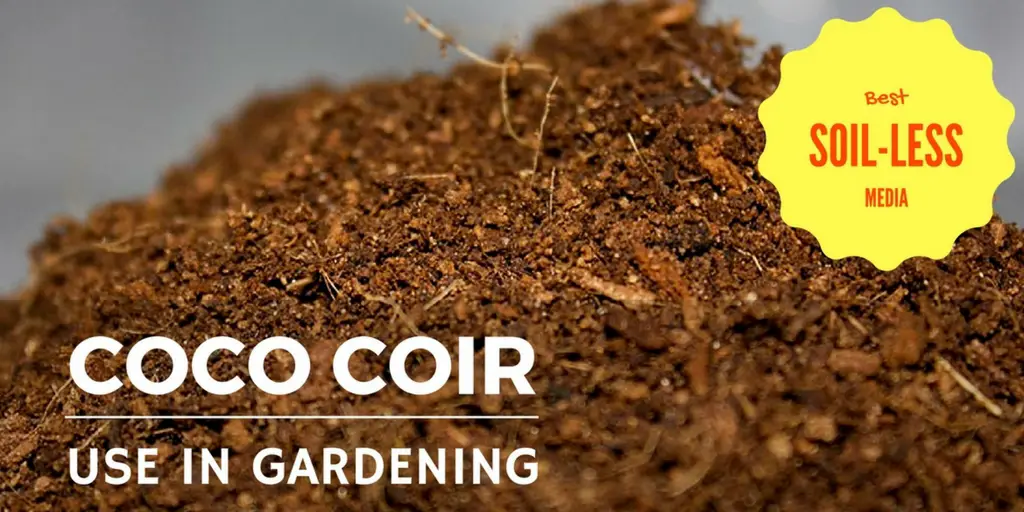 Coir is a very good growing media for plants. It can be a good component for a high-quality potting mix.
Most of the potting mixes available in the market still use peat moss as the base component. if you make your own potting soil, you can replace peat moss with a greener alternative the coir.
Coir is also a great choice as seed starters due to its organic and sterile nature.
You can use coco coir to amend garden soil quality. Coir has an amazing water retention capacity. They can absorb more water than peat and is far easier to re-wet. Mixing coir with soil works great because:
Coir improves the soil aeration and moisture retention.
It loosens the texture of clay soil and improves drainage.
And, it allows the sandy soil to hold on to water longer.
Coir is resistant to bacterial and fungal growth. It provides a lot of new opportunities to the potting mix suppliers, seedling nurseries, Hydroponic growers and greenhouse growers.
Reconstituting a Coir Brick:
Please read the label, it generally informs you how much water you need to convert the coir brick into loamy usable form. Add water per the label's instructions.
Help it reconstitute. The outer portion of the coco coir brick will first start to soften. Break and crumble the soften portion it will speed up the process. Don't worry if it seems like all you have is a muddy mess. If you expose the entire brick, it will absorb the water.
Once the whole brick has crumbled, you can use the coir for growing plants. It will remain loose, even when dry, and will last for years.
What are the Advantages of Using Coir over Sphagnum Peat Moss?
Although many firms in the peat industry are trying to harvest and manage peat bogs in a responsible, sustainable rate, demand is so high, it is safe to say peat is more of a non-renewable source. Coconut coir is not only a natural, organic product, but unlike peat moss a renewable one.
Coir is hydrophilic. Unlike peat moss, it can quickly re-absorb water even when completely dry. Coco peat is porous you cannot over-water it easily.
Coir is slow to decompose and lasts longer in the soil.
It is both sterile and free of weed seeds.
The coir pH is far less acidic (5.8 – 6.8 range) than that of the peat moss (3.5 – 4.5 range).
Coco coir Improves aeration and moisture retention qualities of the soil.
Coir also provides resistance to pythium and other root diseases.
Unlike peat moss, coconut coir is free of bacteria and fungal spores
Click To Tweet
Disadvantages Of Using Coir:
The downside of using coir is that coir has a very little amount of calcium or any other nutrients. Sometimes they are rich in potassium and a few micronutrients.
Coir tends to compact, you might have witnessed this by yourself if you have handled a coir brick before.
Because it retains water, there is a chance of salt build-up.
Depending upon your location coir can be a more expensive than sphagnum peat moss.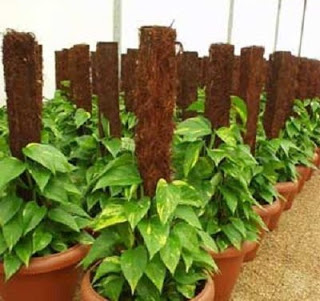 Other Uses of Coco Coir:
Apart from agricultural usage, you can use dry coir as an oil absorbent especially on slippery floors. It has a very good absorbing ability. People also use it to absorb animal wastes.