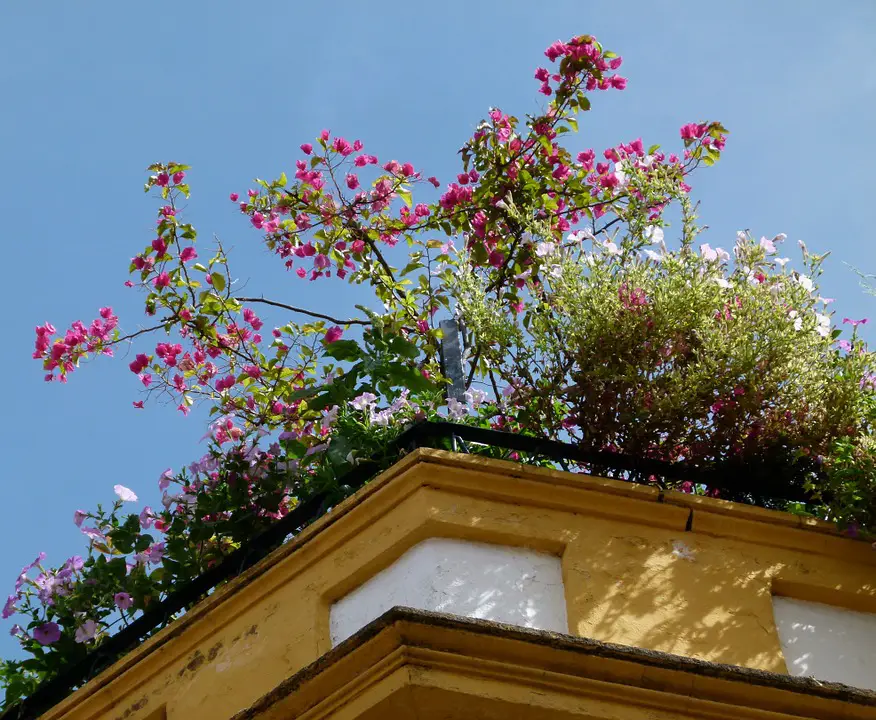 We use affiliate links to run our site. When you buy through links on our site, we may earn an affiliate commission, without any added cost to you. Learn more
Want to do gardening but not having enough space in the backyard? Why not think upwards? If you have a rooftop you can definitely use it to grow your favorite plants.
The best way to start a garden in an apartment or condo is to use your balcony, rooftop, terrace to grow plants. The possibility is endless. You can grow almost anything from veggies, flowers, or herbs.
What is A Rooftop Garden:
A rooftop garden is a man-made green space on the topmost levels (roof) of industrial, commercial, and residential structures. You can use it to grow crops, provide play space, give shade and shelter, or simply be a living, green area.
Benefits of Rooftop Gardens:
Here are some of the benefits for roof top gardening:
You can utilize your unused space into a vegetable garden.
Rooftop gardens are usually full of sunlight. So you won't have any problems with growing plants that particularly love sunlight.
They are visually attractive.
Rooftop gardens cool down the top floor of the apartment in the hot summers.
When you grow plants in the roof you don't have to create a fence for deers.
Types of Rooftop Gardens:
Your rooftop gardens can be different types.
Fully planted green rooftops.
Rooftop gardens with containers or raised beds
1. Fully Planted Green Rooftop Design:
Here are some key areas you need to consider when you plan to make a rooftop garden:
1. Waterproofing The Rooftop Garden:
This is one of the crucial parts of a rooftop garden. If you haven't paid attention to this water will penetrate the building. Here are some rooftop garden waterproofing measures for you:
Use Bituminized fabric or felt.
Apply coal tar pitch
Apply concrete admixtures.
Use waterproofing membranes that are root and rot-resistant.
2. Adding a Protection Layer:
Once you are done with waterproofing your roof, add a protection layer on top of that. It protects the waterproofing layer from mechanical damages.
3. Add A Thermal Insulating Layer:
Next, you have to add a layer for creating a barrier between the heated up roof and soil for growing plants.
4. Drainage Layer:
to drain excess water from the soil you have to make sure it can easily get out so the soil doesn't get soggy. You can add broken clay tiles, pumice, porous mats etc.
5. Adding A Soil Layer:
The thickness of this layer should be not less than 40 cm (for lawns) and 1 to 1.5m for trees and shrubs.
The soil or the growing medium for a rooftop garden is very important. Use a good quality potting mix to grow plants. This will ensure healthy growth and good yield for your garden. Do not use traditional garden soil.
6. Add Plants:
Now you can add plants. You can grow almost any type of plant. Vegetables, fruits, ornamentals, flowers, succulents, and even trees.
Maintenance:
Use your preferred irrigation methods to water the plants. You can choose semi-automatic drip irrigation or manual hose irrigation as per your comfortability.
From time to time check the waterproofing, drainage of the system. Regular pruning, mowing, fertilizing and pest removal are all part of the maintenance process.
In fully planted rooftops you cover the whole roof with soil and on that, you grow plants. The good thing about this type of rooftop garden is that it is very environment-friendly.
The problem is, they are quite difficult to undertake by the residents. You need engineers and architects to design it properly and then execute it with professional help.
2. Rooftop Gardens With Containers or Raised Beds
The second type of rooftop garden is by far the easier way to do gardening. You use containers and pots or raised beds to grow plants.
The design is flexible here you can create any style without needing any professional help. Growing plants in containers are perfect for most of the people who want to do rooftop gardening.

Best Plants For A Rooftop Garden:
Here are some of the best rooftop plants you can grow.
Vegetables For Rooftop Garden:
If your garden receives enough sunlight you can grow almost any type of vegetables. To bear fruits veggies need enough sunlight other than nutrients and water. Start with the easy to grow vegetables. Some of the popular veggies for your rooftop garden would be:
Tomatoes
Eggplants
Okras
Peppers
Chilies
A Little bit of care like feeding your plants, watering, pruning, and protecting veggies from pests will be enough to get desired results.
Flowers For Rooftop Garden:
You can also decorate your roof with plenty of flowers. Some of the popular flowers for rooftop garden are:
Hibiscus
Tulips
Roses
Petunias
Marigold
Growing flowing plants will not only make the rooftop look aesthetically more appealing, but the flowers will bring pollinators to your gardens and will repel harmful bugs.
Herbs For Rooftop Garden:
Herbs are really easy to grow in any type of garden. Some of the popular herbs for rooftop garden are:
Basil
Cilantro
Thyme
Lavender
Mint
Lemongrass
You can try other herbs too. Herbs are quickest to grow in most cases. Some herbs need a particular environment to grow. If you live in any such weather conditions you can definitely give them a try.
Succulents For Rooftop Garden:
Succulents are really easy to grow. They need very little care. If your growing medium is of good quality and is well-drained you won't have much of a problem. Two of the most common succulents for rooftops are:
Fruits And Other Plants For Rooftop Garden:
Yes, you can grow fruits also in your roof garden. Choose the dwarf varieties for growing in rooftops. Some of the popular fruiting plants are:
Lemon
Strawberries
Pomegranates
Apples
Banana
Make sure you take care of the ideal growing conditions of each plant and you will have a bounty full yield.
You can also make protected cultivation for ornamental crops in your rooftop. Small ornamental trees and shrubs do very well in roof gardens. Just prune their roots from time to time to keep them to a manageable size. Some of the popular ornamental crops for rooftops are:
River birch
Japanese maple
Serviceberries
You can also grow grass on your rooftop garden. Grass grows best during the monsoon. So adjust your planting time accordingly.
Rooftop Gardening For Beginners:
A rooftop garden is quite similar to your backyard garden. But unlike your backyard, you need to keep some points in mind before starting your garden.
Weight of The System:
First, decide whether you want to use containers or you want to make a plantation in the raised beds. In case you are planning to use containers try lighter material like plastic or fiber.
Calculate the total amount of weight your rooftop is going to bear. You need to add the weight of the soil (in a wet condition), containers, mature plants along with their fruits, temporary weight such people, and snow (in case you live in a place where snowfall is a regular incident).
You can reduce the weight of the soil by mixing Coir or Perlite with the soil.
Sunlight:
Generally, rooftops are full of sunlight (unless your rooftop is surrounded by some high buildings). So the chances are good that the plant will receive at least 6 hours of sunlight pretty easily. But overheating is sometimes also detrimental to certain plants.
Besides heat from the top, there is a huge amount of heat also reflected back by the floor of the roof. So just keep in mind that in some cases you may need to provide some shading for the plants.
Wind Speed:
Your roof top is a place where the speed of the wind is maximum; especially if you live in high altitude. It is always better to provide some structural barrier or fencing to protect the plant in case of excessive wind flow.
Accessibility of The Garden :
This is a major issue. How easily you can access your rooftop. Carrying soil, containers, can be a real headache if the accessibility is poor. Please make sure you have a lift or proper stairs installed before starting.
Watering Your Rooftop Plants:
In the hot summer, You might have to do the watering every day. Make sure you have water connectivity in the rooftop; otherwise carrying water from downstairs can be a nuisance.
Make sure you have proper drainage on the roof. You can also use the rainwater if you have a water harvesting system in place.
Besides these major issues some minor factors you also need to consider. The availability of electricity at the terrace can be really helpful though it is not essential. Also please take the required permission from your local authority before starting you garden.
Construction Cost of The Roof Garden:
Starting a rooftop garden can be expensive. Some of the most common costs of starting a rooftop garden are: building the structure on the roof, laying the floor with stones of tiles, building raised beds, buying pots, patio furniture, and also the cost of structural works that needs to support the garden.
There are many ways you can reduce the cost of your rooftop garden.
Start small and add on buying plants and pots as you go.
Don't go all out in buying ready-grown plants. Especially if you are just starting out and not want to spend a ton on plants.
Use recycled containers rather than buying fancy ones. You can also find cheap containers at yard sales.
Ask other gardeners to share seeds or other resources. The gardening community is quite generous in this type of situation.
Instead of buying potting soil make your own potting mix.
Some Useful Rooftop Gardening Tips:
Choose large, deep pots to grow veggies. The problem with using thin and poor quality plastic pots is that they heat up quickly and drainage is also very poor.
Use organic fertilizers to regularly fertilize plants in your garden. The ideal combinations of fertilizers will vary in each case. With time and experience, you will find the best for your garden.
Water your rooftop plants regularly. Use proper watering techniques to maximize the impact.
Prune plants from time to time. Plants such as tomatoes need regular pruning for a good harvest.
Check plants regularly for pests and diseases. Use organic pest control methods to control pests.
Although sunlight is crucial for growing vegetables, sometimes too much sunlight can harm your plants. So if you are living in tropical weather where the intensity of the sunlight to too much, arrange afternoon shade for plants.
In Conclusion: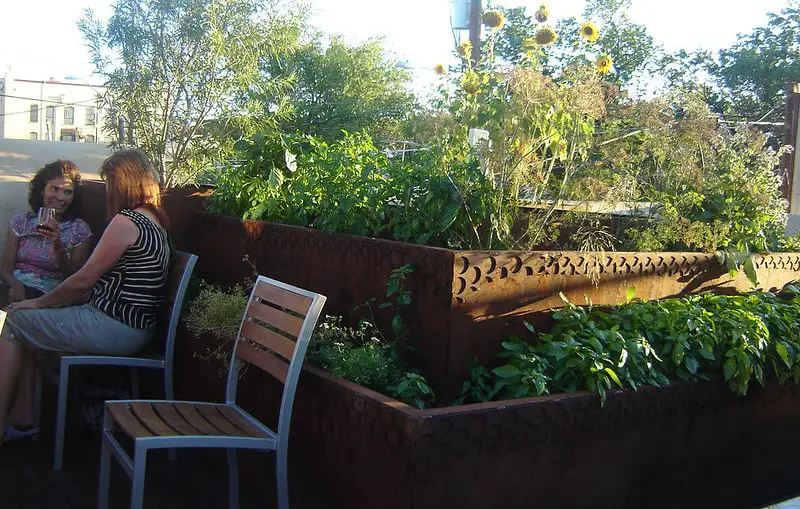 Rooftop gardens are a fantastic way to create a socializing place for people. With very little plants you can transform a barren roof space into a social hub.
Add some chairs and tables and a bit of lighting and you will be amazed at how much time you can spend there. Even if you are not the sole owner of that roof and you share it with other residents, people will flock to your garden leaving their indoor homes.
Amazon and the Amazon logo are trademarks of Amazon.com, Inc, or its affiliates.