Raised garden beds are always a good option for Gardening. Though it might sound pretty troublesome to prepare garden bed it is not that tough. This article will put some light on Garden bed preparation.
Why You Should Build A Raised Garden Bed:
Raised garden though can be a labor-intensive work provide many benefits. Here are some of them:
Raised garden beds Improve soil drainage.
Soil compaction is far less compared to the traditional way of gardening.
When you grow plants in a raised bed it is always easier to control weeds.
Raised garden beds give warmer soil temperature than traditional gardening in spring.
Beds are ease of access.
When you grow plants in raised gardens you prevent soil erosion.
And finally, garden beds looks aesthetically amazing. It will increase the overall beauty of your garden.
How to Build A Raised Garden Bed:
The first thing you need to do to make a raised garden bed is to kill the weeds in the area you have planned your bed. The best way to do this is to first till the area with a tiller or plow it (in case the area is larger).


Next, add a thick layer of compost and till again. You can also add layers of newspaper or cardboard to cover the area before tilling the soil.
It will kill most of the weeds in the first place. Weeds which have deep roots or runners can be killed easily by this process.
After covering the area with compost add some water to the soil and till it a bit. This will make the weed seed (which are present in the soil) to germinate. Once they germinate, till it once more.
This total process of watering and tilling you need to follow quite a few times. After making sure that there are no more weed seeds present in the soil, you can use your vegetable or other plants. Try not to use seeds at first and go for transplanting in the first year. After that, you can use seeds as per your likings.
Another way to get an instant garden bed is to cover the whole area with the topsoil bags which are readily available at any garden store. Try not to use the cheap quality product but go for the company which is known for their product quality.
Cut one or two areas of each bag and plant your seedling or seeds there. After covering the whole area with topsoil bags, cover the exposed plastic area of the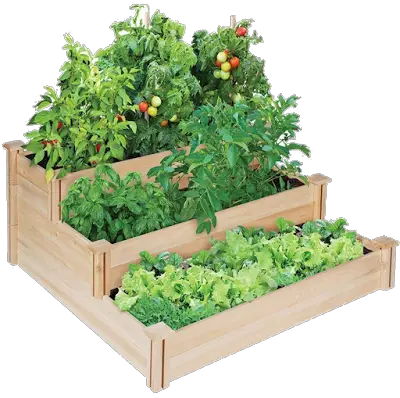 bag with a thick layer of Mulch. Now you have it, your own garden bed.
This type of permanently raised bed gardening is always helpful and it also makes the surrounding soil much more fertile and healthier. Raised beds warm up faster than normal soil. The best part about garden beds is you can make it any size you want. Keep enough space for walking, beside the garden beds and never walk on the beds.
Keep adding composts at regular intervals. It will keep the beds fertile. The first year it is recommended to add 4 to 6 inches of compost. In the subsequent years, ½ inch of compost will be enough to provide the required nutrition to the plants.
Have you prepared your garden beds yet? Share your experiences with us.