What is transplanting?
Transplanting means growing seedlings in some specialized environment or container and then transfer it to its final place. It is different from direct seeding methods where seeds are directly sown in its final place.
Why transplanting seedlings?
If you are starting plants directly from seeds, transplanting can offer you a lot of flexibility in planning and growing crops. Let's look at some of them:
Initial few days are very crucial for any plant. In transplanting you can control its environment to the fullest. You can adjust its optimum temperature, humidity water requirements etc. That is very difficult if you plant the seeds directly to the ground soil.
You can provide the best nutrition possible to the seedlings. A good quality potting mix can make sure you get the best possible survival rates in the initial days.
It is easy to protect your plants from the harsh environment outside. Not only you can protect the plants from wind, heat, and rain, you can also give protection against birds, snails, and other pests.
You can extend the growing seasons for the plants when you grow seedlings indoors. By controlling soil temperature you can grow many plants that are otherwise impossible to grow.
A transplant has a better chance of competing against the weeds than directly sown plants.
Lesser wastage of water. So much more environment-friendly.
Growing seedlings indoor results in better germination rates. So you can save your cost of seeds. It would be beneficial in the longer run, particularly if you have some exotic variety.
Transplanting seedlings to pot:
Like a mature plant, seedlings also need space to grow. So after 2-3 weeks of their germination, you have to transfer them into larger containers. Now, it is not always possible to move them right into the ground. But if you have other plans such as growing them in pots, or maybe the weather is still not suitable for the seedling to grow outside you might need to transfer them to larger pots.
Once the seedlings have their first set of true leaves it is time to transplant them to larger pots.
If you are too much concerned about damaging the roots, use a biodegradable pot like coir pots or peat pots. You can place the pot directly into the ground without disturbing the roots.
When to transplant seedlings:
The time of transplanting seedlings depends mostly on your locality. Check out the local frosting date so you can transplant accordingly. Always transplant your seedlings after the last frost, unless it is a cool weather crop.
For example, if you have tender seedlings like tomato or peppers, It would be best to wait until nighttime temperatures are above 10°C 50°F before even contemplating transplants outdoors.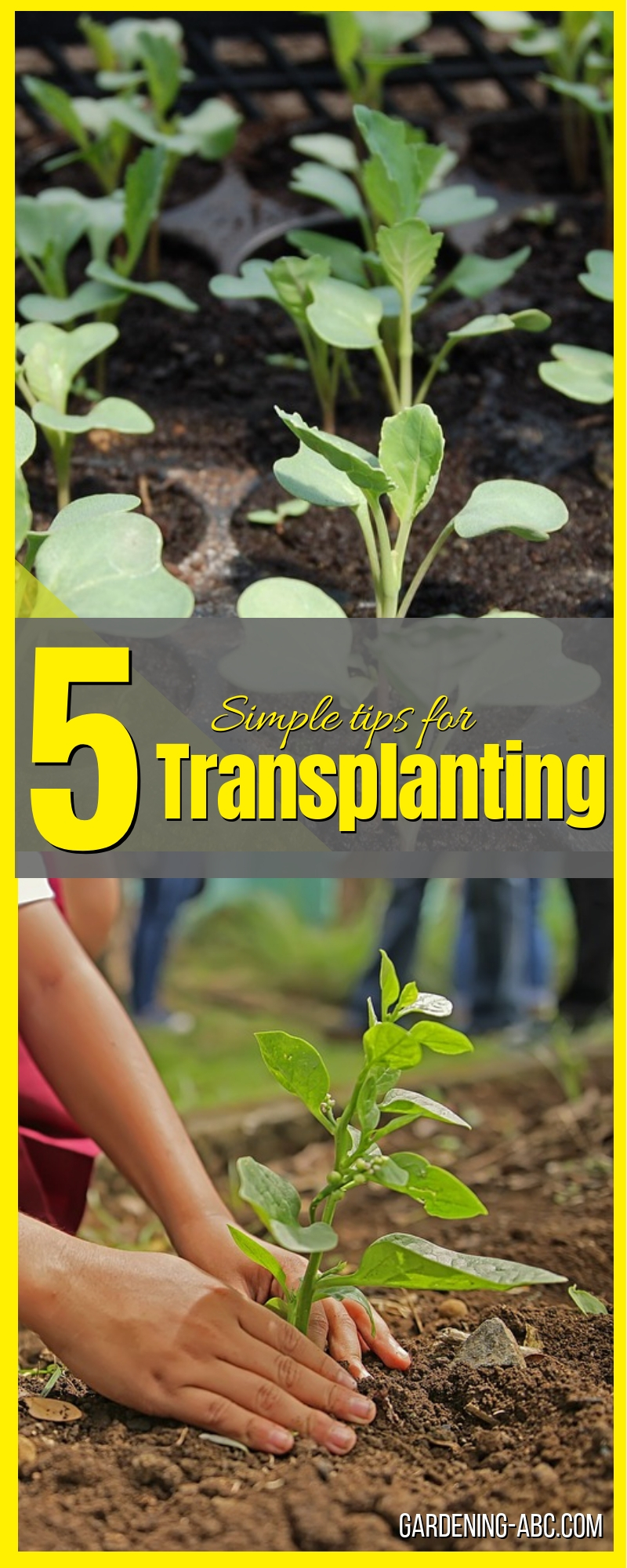 How To Transplant Seedlings?
Hardening off your transplants:
Before you transplant your seedling to the garden you have to do what we call hardening off seedlings. Here the plant makes some much-needed adjustments to suit the harsh outside environment.
When they are exposed to the increased airflow or a fluctuation in temperature the plant cells make the necessary adjustment to cope up with the situation. It may be in the form of tick stem or a stronger root system. This process is called hardening of the transplants.
5 simple steps in transplanting seedlings:
In case you have chosen to transplant and not to start from seeds, the following steps will help you.
First, make a hole in the ground where you want to transplant the plant. It should be as deep as the height of the container and double of its diameter.
Before transplanting it is almost mandatory to give water to the plants. If you don't do that it will not be possible for the plant to get water from the soil initially. It takes some time for the plants to grow roots in its new environment.
Keep a hold on the stem of the plant and put the pot upside down. Due to the gravitation force, it will be far easier to take the plant out of the container.
Plant the seedling the same depth as it was in the container.
Cover it with the garden soil and press gently to ensure the roots are in solid contact with the soil. Make sure the soil remains moist constantly till you see the plant grow.
Try to transplant on an overcast weather condition. It will give the plant a better chance to adjust to their new home without being withered by direct sunlight.
Transplanting can be a great way to start gardening. It will definitely increase the chances of survival for the plant. If you are constantly unmotivated to see the plant die try transplanting. It will definitely give you enthusiasm for continuing Gardening as a hobby It has so many benefits of its own.