Homegrown Strawberries are always best in taste. They are nutritious and are quite easy to grow. In this article, we will discuss how to grow strawberry plants in your garden.
Strawberry plants are low growing perennials that give a delicious supply of fruits. While establishing and maintaining a strawberry patch might seem like a lot of work, A strawberry plant is actually easy to grow if you know the basics.
So without further ado let's start discussing some growing tips of one of our favorite fruits: The STRAWBERRIES.
Strawberries are one of your nutritious assets in the garden. These low growing perennials give a delicious supply of fruits and are quite easy to maintain
Click To Tweet
How To Grow Strawberry Plants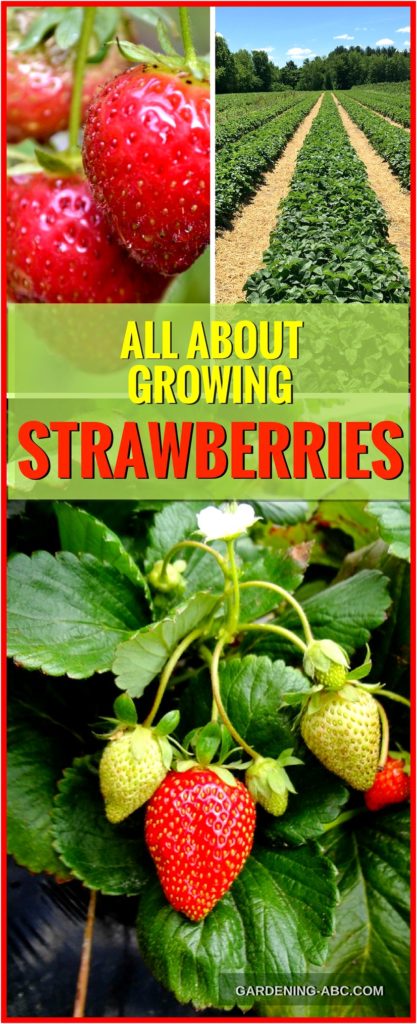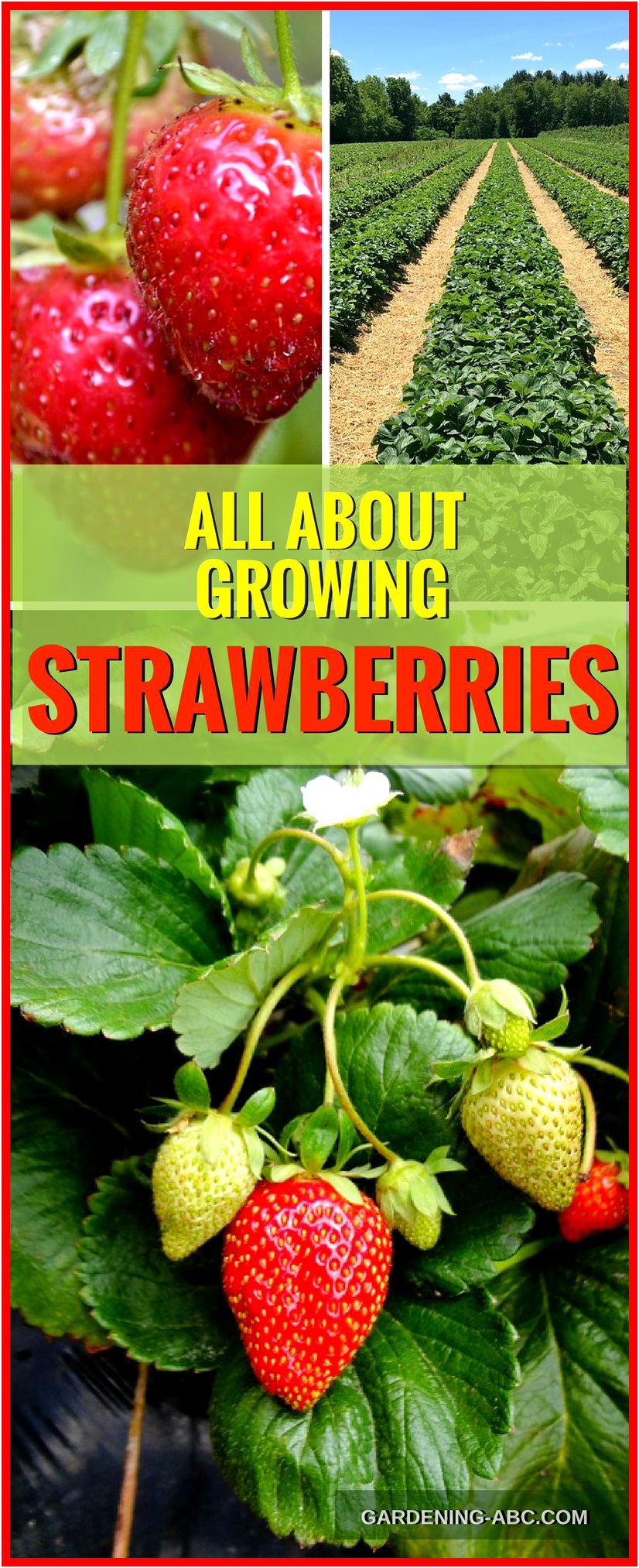 Strawberry Varieties:
If you are growing strawberry plants pay a close attention to the types of strawberries you choose. Always choose the variety that is best suited to your area.
There are mainly three varieties of strawberries
1. June bearing Strawberries:
This strawberry variety generally bears fruits in the month of June but it can be early or later depending on your locality. Commercial growers prefer this variety of strawberries due to its monstrous yield.
June bearers start to ripen within 30 days past bloom. You generally have about 10 days to harvest the fruits.
June bearing strawberries are also known as early summer variety.
2. Day-neutral Strawberries:
This strawberry variety bears throughout the growing season and has three peak periods of fruiting. The modern day-neutral varieties keep producing fruits continuously all summer and into the fall.
Day-neutral strawberries produce fruit throughout the growing season with just a few runners.
3. Everbearing Strawberries:
Everbearing strawberries produce two crops in a year. The variety is generally not of very high quality and has a modest-sized crop.
They generally begin fruiting in spring, with intermittent crops throughout summer and early fall. ever bearers are a delicious source of fresh fruit in the home garden.
Everbearing and day neutral strawberries are great for you if you have limited space. They do not produce many runners.
You can grow these varieties of strawberry in terraced beds, barrels or pyramids. You can also use them as a ground cover.
Planting Strawberries: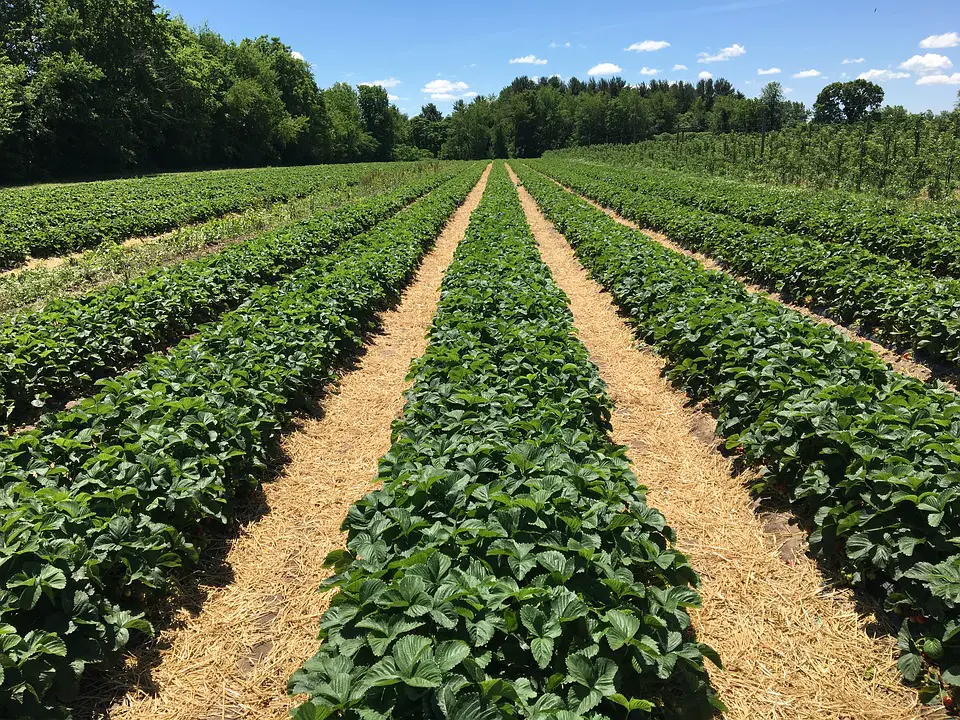 Though in most cases we plant strawberries in raised beds or garden rows, you can grow strawberries even in containers and hanging baskets.
Strawberries require full sun. Make sure your place gets at least 6 hours of sunlight. It is a very tolerant plant and can be found in most of the countries.
If your area is very windy make some arrangement to protect the plant from the wind.
Strawberries need full sun. Make sure your place gets at least 6 hours of sunlight.
Click To Tweet
Ideal Soil and Fertilizers For Growing Strawberries:
It is always better to use raised garden beds than the direct soil to plant strawberries. You can use the same garden bed for up to three years to grow strawberries provided you have not planted any Solanaceae (Tomato, Eggplant) plant there earlier.
Replace the strawberry bed once you see the fruits begin to become smaller (generally after 3rd year). Crop rotation can be a good idea for the same garden bed.
Strawberries prefer slightly acidic soil. Ideal pH for growing strawberry plants is around 6.5.
You can use the same garden bed for up to 3 years to grow strawberries if you have not planted any Tomato or Eggplant there earlier.
Click To Tweet
To make the strawberries flourish, add a good amount of compost to the soil. However, do not over fertilize the soil. If you do that it will result in excessive vegetative growth and reduced yield. You can increase your strawberry yield by using coconut coir as a growing media.
How To Plant Strawberries?
Strawberry seedlings send out runners, or 'daughter' plants, which in turn will send out their own runners.
Always plant strawberries during the late afternoon. Plant them in rows with 50 cm apart. Keep close to a meter gap between the rows. Matted row planting is the most popular way to growing strawberries.
Cover the top of the roots but leave the crown uncovered. After a few weeks, these plants will act as mother plants and will produce their own runners and daughter plants.
Mulching Your Strawberry Plants: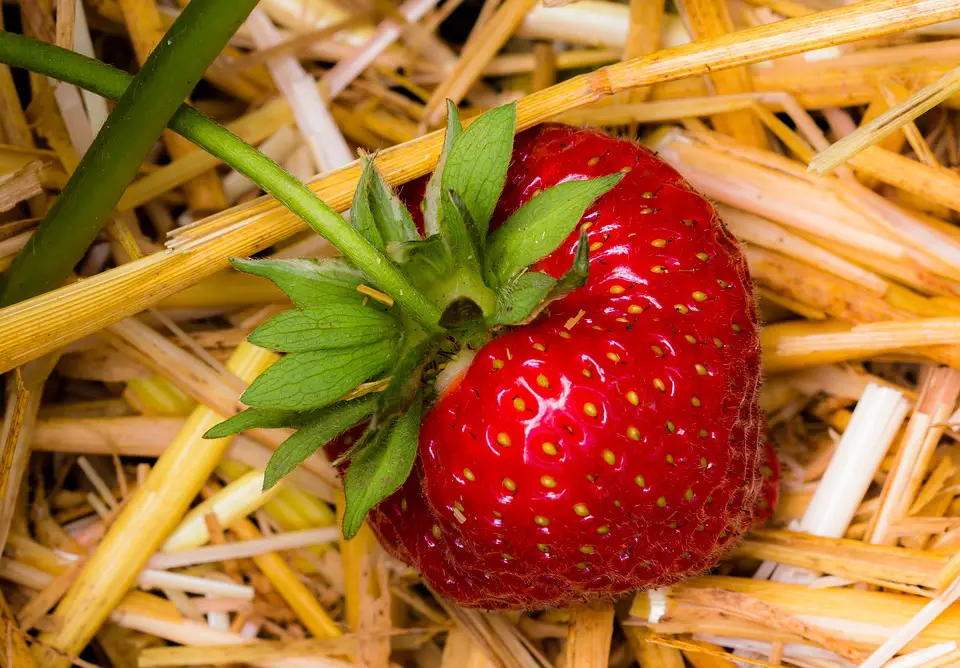 Your strawberry plants need mulching for protection from cold. Apply approximately 4 inches of mulch in December or prior to the frosting date.
You can remove the mulch cover in springs once the dangers of frosting are over. Once you see the fruits begin to form apply a layer of straw mulch.
These have a dual benefit. They help to retain the moisture in the soil and also save the fruit from getting the dirt once it is matured.
Strawberry Flowers: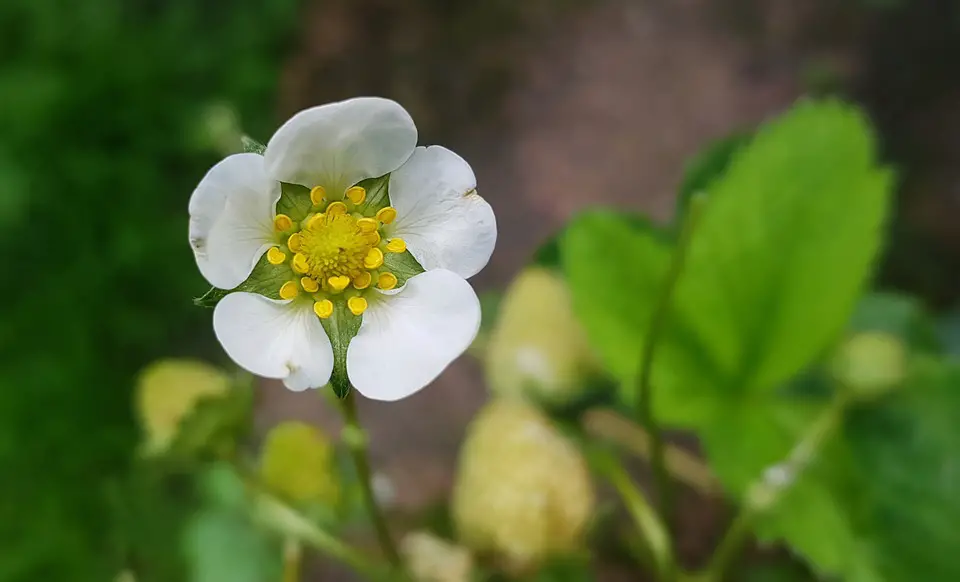 Strawberries have intricate flowers. Like most fruit, strawberries also come from the delicate flowers of each strawberry plant.
Strawberry flowers originate in the crowns of the plants. They begin their life as tiny flower buds within a strawberry plant.
All strawberry plants have flowers but they are not identical. The look changes according to different varieties.
Pruning Your Strawberry Plants:
Once the plants start growing bigger, they will extend many runners. It is important to do some pruning at this time.
Remove most of the runners so that the energy flows directly to the plant and will result in good quality fruits.
The best equipment for this is pruning shears. You can also use your fingers to pinch them off. Be very careful so that you don't damage the roots of the plant.
Harvesting and Renovation:
Strawberries are generally ready for harvesting after 4-6 weeks of blossoming. Use a sharp knife to cut by the stem. Don't pull the fruits it can damage the plant. After harvesting store the strawberries in the refrigerator.
The renovation is an important part of strawberry care. If you want to make you get a good yield you need to renovate the soil every year after the harvest. Here is the renovation process in simple steps:
First, mow the old plants with a mower from 1 inch above the crown.
Add a good quality compost with the soil.
Remove the weeds.
Thin the plants into narrowed rows.
Water the soil to promote growth.
The renovation is key to strawberry care. Want to get a good yield? Renovate the soil every year after the harvest.
Click To Tweet
Bird Control In Strawberry Gardening:
Birds can be a serious threat to your strawberry production. One of the possible solutions is to use bird nets.
Anchor the net all the way around the planting and cover the plants carefully. If you are failed to anchor the net birds will walk under it.
Diseases of Strawberries:
The unfortunate part of strawberry is that it is quite prone to diseases. So start smart. Buy only certified plants from your nearby nurseries.
Once the plant starts growing clear away any dead leaves in the plant. Keep a close eye on any aphids or worms in the plant.
Nutritional Value of A Strawberry:
Apart from the delicious taste eating strawberries are also good nutrient wise. Strawberries are rich in vitamin C and potassium. So you can enjoy the fruit and also get those needed vitamins and minerals into your system.
Tricks and Tips:
In the first year, pick off blossoms to discourage strawberry plants from fruiting. This will make their roots healthy and stronger and the yields will be huge in the second year.
Hope you liked the article. Go ahead and use the strawberry growing tips that are discussed in this article. If you have any queries or feedback on growing strawberries please comment below the article.