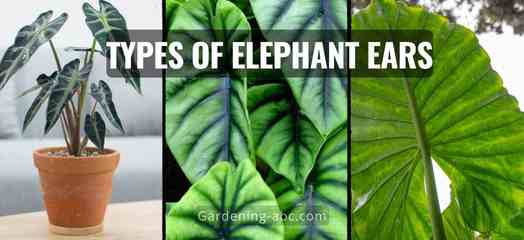 We use affiliate links to run our site. When you buy through links on our site, we may earn an affiliate commission, without any added cost to you. Learn more
Elephant ear plants are a great addition to any garden, and they're especially easy to grow at home. Their large leaves make a dramatic statement, and they add a touch of tropical flair to any setting. 
Elephant ears are also very versatile; you can use them as a focal point in the garden or as part of a larger landscape design.
Although these tropical plants are known for their large, floppy leaves they come in a variety of sizes and colors. They are a fantastic choice for you if you want to add some colors to their garden. 
In this post, we are going to discuss the different types of elephant ears that you can grow in your garden.
What Are Elephant Ears:
Elephant ear plants are a species of tropical plant that is commonly found in the tropical parts of the world. The plant gets its name from its large, floppy leaves,(just like the ears of an elephant!) which can grow up to three feet long and two feet wide. 
Elephant ears are fast-growing and can be grown both indoors and outdoors.
Common Elephant Ear Plants Varieties:
Elephant ear plants are a genus of plants in the family Araceae. There are about 70 different species of elephant ear plants. They are found in tropical and subtropical climates. 
Elephant ear plants can be annuals or perennials. They come in a variety of shapes and sizes. Some species of elephant ear plants have leaves that are over 3 feet long.
There are 4 main types of elephant ear plants: 
Alocasia,
Colocasia, 
Caladium, and 
Xanthosoma. 
1. Alocasia:
Alocasia is famous for its huge heart-shaped foliage with vibrant colors. These types of elephant ears rarely bloom, but when they do they can produce calla lily-like flowers. 
These evergreen perennial plants are native to Asia and Australia and can have 90+ varieties. An alocasia can grow up to 6 feet.  Their dark waxy leaves make them ideal for growing indoors.
Some of the Most Popular Alocasia Species are
Alocasia Portora
Alocasia Macrorrhizos Stingray
Alocasia Amazonica
Alocasia macrorrhiza Odora
Alocasia Sanderiana
Why my elephant ears are turning yellow?
2. Colocasia:    
Colocasia plants are also commonly known as taro plants. The distinctive leaves of Colocasia plants are more like a shield and have peltate leaves. The leaves can be red, green, or purplish-black. 
They are wetland plants so they prefer edges of pools and water surfaces. Colocasia plants also prefer full sun. They are also fantastic landscape plants that pair beautifully with caladium.
There are around 200 species of Colocasia plants. Some of the most popular Colocasia Varieties are:
Colocasia esculenta
Colocasia esculenta Black Magic
Colocasia esculenta Black Stem
Colocasia esculenta Hawaiian Punch
Colocasia esculenta Mojito
3. Caladium:  
In comparison to the earlier two caladiums are a bit smaller in size. The plants can reach only 2 feet in height and have an equal spread. The leaves are typically red, pink, or white.
Caladiums love the partial shade. So if your houselight does not include much sunlight then these plants are ideal for you. Caladiums are fantastic container plants.
Some of the most popular caladium varieties that you can grow in your house are 
Caladium White Queen
Angel Wings
Iceberg
Rose Glow
Little Miss Muffet
Candyland
4. Xanthosoma:    
Xanthosoma plants are tropical American plants with arrowhead-shaped leaves and brilliant blue-green leaves. 
The plants are native to tropical America but can be found in many warm parts of the world. Xanthosoma prefers a temperature over 68 degrees Fahrenheit.
They are popular landscape plants because they are easy to grow and tolerate a wide range of conditions.
Most Popular Xanthosoma Varieties    
Xanthosoma sagittifolium
Xanthosoma Mouse cup Taro
Lime zinger
Xanthosoma lindenii
Conclusion:
In conclusion, there are many different types of elephant ear plants to choose from. Alocasia, Colocasia, Caladium, and Xanthosoma all have their own unique characteristics that make them a great addition to any garden. 
Whether you are looking for an imposing statement piece or a more subtle addition to your garden, there is always an elephant ear plant for you.
Thanks for reading. I hope this post was helpful to you. 
If you like the information please share it with others also.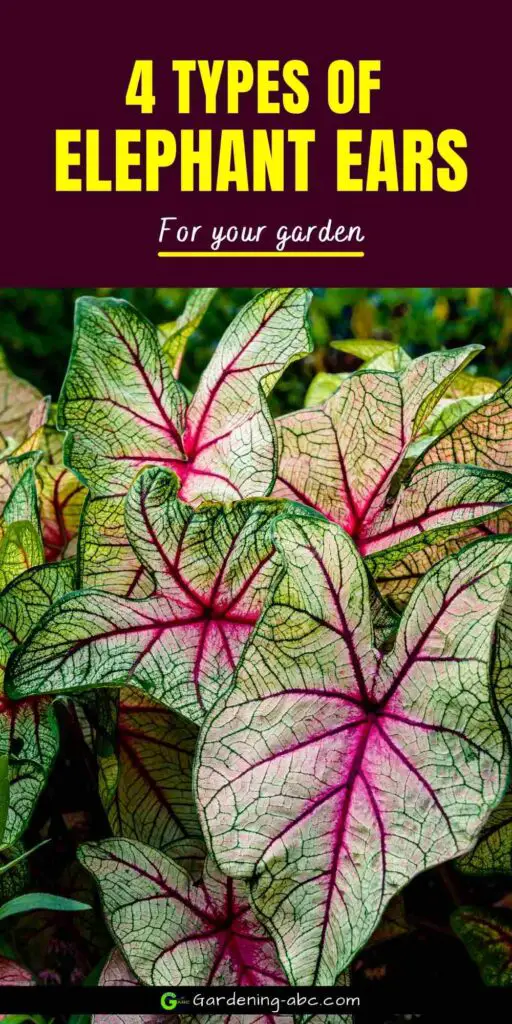 Amazon and the Amazon logo are trademarks of Amazon.com, Inc, or its affiliates.