In this article, we are going to discuss the nutritional value of tomatoes, that are all well worth taking note of. If you have any doubt about the effectiveness of tomatoes on your health we encourage you to read on.
The tomatoes are probably the only fruit, that most people will call a vegetable. These bright red, highly nutritious, and exceptionally popular food that is eaten not only on its own but as a part of a huge array of other dishes too.
Tomatoes are highly versatile and the list of uses of tomato can be an extensive one. They are used to make tomato ketchup, tomato soup, tomato sauce, tomato juice, and a variety of other food products. However, the best nutrition you can get is from the home grown ripe ones.
Important Nutritional Value of Tomatoes
Tomatoes are High in Lycopene:
Of all the micronutrients found in tomatoes, lycopene is
certainly
one of the most important
. It is one of the very powerful natural antioxidants.
Lycopene protects against several age-related diseases such as colorectal, prostate, breast, endometrial, lung, and pancreatic cancers
. It has even
been shown
to aid and prevent certain cardiovascular diseases.
Lycopene is fat soluble. Cooking tomatoes with a small amount of fat make this compound more bio-available.
That is, rather than being destroyed, lycopene is more useful in foods like ketchup than in raw tomatoes
.
Tomatoes Have High vitamin C content
Tomatoes are rich in vitamin C. One medium sized tomato (about 120 grams), will give you 15.6 milligrams of vitamin C. This is
just
over a quarter of all the vitamin C your body needs in a day. Vitamin C boosts the immune system, lowers blood pressure and fights cancer.
.
Tomatoes are Rich in vitamin A
Just
like vitamin C, tomatoes are also a great source of vitamin A. You can get one fifth of the vitamin A that you need in a day from a medium sized tomato. Vitamin A is a strong antioxidant. It also helps to maintain strong teeth and bones.
Tomatoes are A Great source of vitamin K
Tomato benefits also include providing a great source of vitamin K. A medium sized tomato is capable of providing you one tenth of daily need of this vitamin. Vitamin K is an effective clotting agent, it helps to protect cuts from infections.
Tomatoes Help Maintain Sodium/potassium balance:
Eating tomatoes help to maintain the Sodium/potassium balance. Tomatoes are low in sodium and at the same time are richer in potassium. This, in turn, regulates the blood pressure and allows the cell to function
normally
.
Buy Organic Heirloom Tomato Garden Seeds
Other Nutrients in Tomatoes
Just to point out just how incredibly nutritious the tomato is, here are some more nutrients that are present in tomatoes
* Choline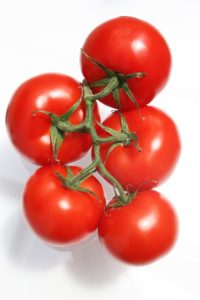 * Calcium
* Iron
* Zinc
* Copper
* Manganese
* Vitamin E
* Vitamin B3 / Niacin
* Vitamin B5 / Pantothenic acid
* Vitamin B6
* Vitamin B9 / Folate
* Fluoride
* Magnesium
* Phosphorus
* Potassium
* Sodium
and don't forget dietary fiber.
One important thing to remember is that although you can get the needed vitamin and minerals from supplements, the best form of nutrition is to get it directly from the food source.
Furthermore, if you were wondering how many calories are in a tomato then you won't be disappointed. In the same sized tomato that we have used in the above examples, there are just 22 calories!
Now, if you don't want to buy over-priced "vine" tomatoes or half ripened reddish balls (they called tomatoes) from the supermarket you can grow them in your house.